Robust Peristaltic Pumps with AC and Three-Phase Motors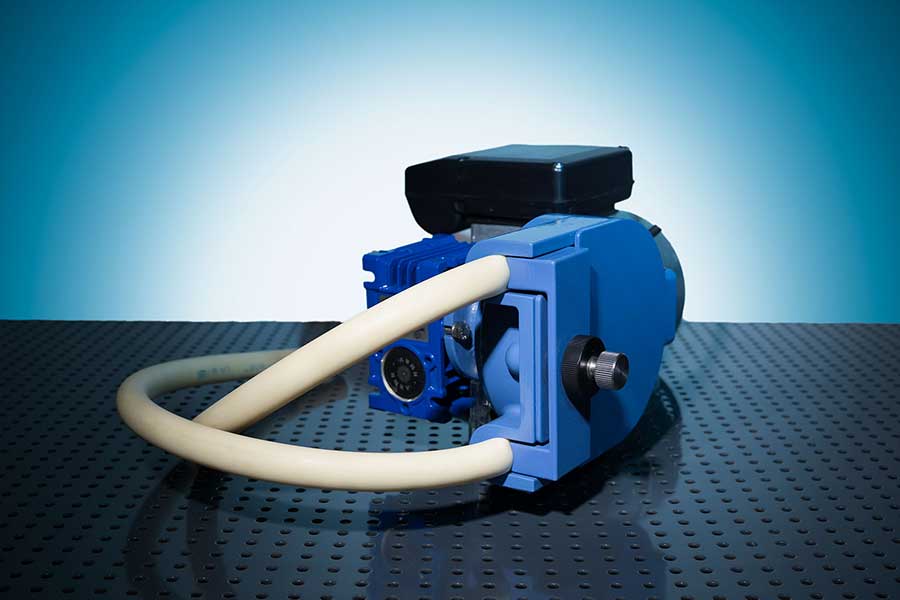 Series 600
Randolph Austin OEM Peristaltic Pumps
Casing machined from an aluminium casting with a hinged cover that can be easily opened
Pump available with two- or three-roller-rotors
Tube ID either 9.5 mm or 12.7 mm with a 3.2 mm wall
The following tube materials can be used:
Silicone, Lagoprene®, Cilran™, ED-Plex™, Povinal™, Prothane™, Vytex™
Maximum flow rate 8.7 l/min
Available with a fixed speed, a mechanically adjustable gear motor, an air motor or variable DC-drive
Standard version with gear motor 230 V, 1 Phase, 0.18 kW or 400 V, 3 Phases, 0.25 kW
Special version 615 model – pumphead completely made of stainless steel
Industries: general industries, paper , food,
dosage, sewage, laboratory, pharmacy
Dimensions: standard version approx. H 170 mm x W 322 mm x D 220 mm
Weight: approx. 9 kg
Flow Rate
(Pump fitted with a two-roller-rotor)
RPM
34
68
93
137
182
274
Tube ID mm
l/min
9.5
0.7
1.5
1.9
2.9
3.9
5.8
12.7
1.1
2.2
3.0
4.4
5.8
8.7
The flow rate is reduced by approx. 15-20% with the use of a three-roller-rotor.
(measured with water, pressureless, at room temperature, with ED-Plex ™ tube which was flexed for approx. 20 min beforehand)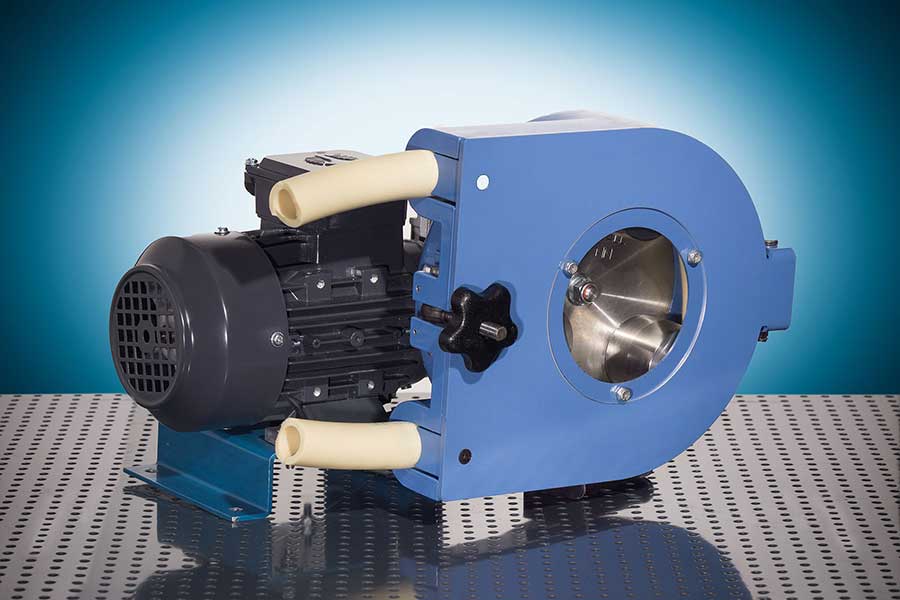 Series 700
Randolph Austin OEM Peristaltic Pumps 
Casing machined from an aluminium casting with a hinged cover that can be easily opened
Pump available with a three-roller-rotor
Tube ID either 16.0 mm or 19.0 mm with a 4.8 mm wall
The following tube materials can be used:
Silicone, Lagoprene®, Cilran™, ED-Plex™, Povinal™, Prothane™, Vytex™
Maximum flow rate 23.5 l/min
Available with a fixed speed, a mechanically adjustable gear motor, an air motor or variable DC-drive.
Standard version with gear motor 230 V, 1 Phase, 0.18 kW or 400 V, 3 Phases, 0.25 kW
Industries: General industries, paper, food, dosage, sewage, laboratory, pharmacy
Dimensions: Standard version approx. H 243 x W 374 x D 226 mm
Weight: approx. 17 kg
Flow Rate
RPM
93
140
280
Tube ID mm
l/min
16.0
5.0
7.5
15.0
19.0
8.0
12.0
23.5
(measured using water, pressureless, at room temperature with ED-Plex™ tube, the tube was flexed for approx. 20 min beforehand)
Randolph Austin Company RA 630 and RA780 series peristaltic pumps with cast aluminium pump heads and various gear motors.
The compact RA 630 and RA 780 series peristaltic pumps are fitted with aluminium cast pump heads and available with a large selection of tube materials, tube sizes and gear motors. They are perfectly suited for industrial applications with low pressures. Both models cover a large area of use and the tubing can be changed without the assistance of tools.