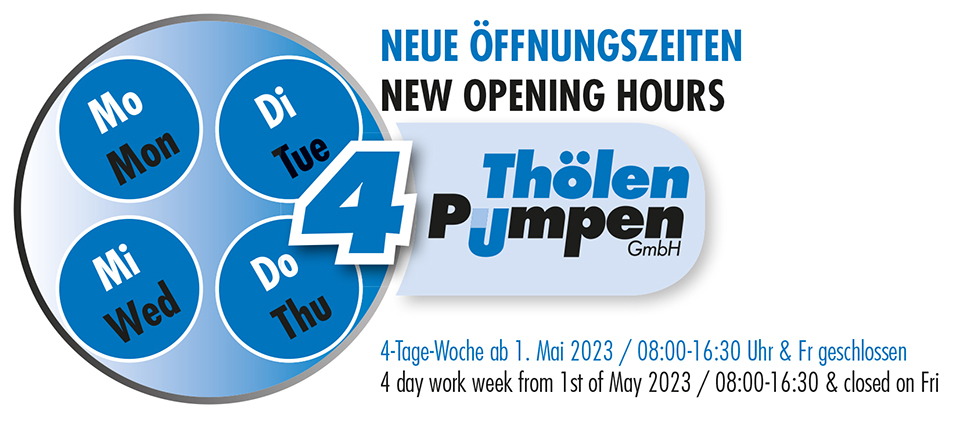 As an innovative, family-owned business we have introduced the 4-day work week with effect from 01 May 2023, hoping to offer our members of staff an improved work-life balance.
By doing so we anticipate to achieve positive synergies for our company. Studies performed in the UK support the theory that.
Staff feel better rested and motivated
Productivity is boosted or at least maintained
Days of absence are significantly reduced
Our new core working times will be:
Monday—Thursday 0800—1630 hrs
Friday CLOSED
A Global Supplier – Situated in the German Town of Geldern
We are a successful family business specializing in mechanical and industrial engineering, supplying customers of nearly all industries as well as distributors in Europe and the USA. Our team develops, produces and distributes pumps and accessory components so providing customized solutions for a variety of pumping requirements.
Since its foundation in 1997 our owner-managed company has continuously grown and, since 2008 has also been successfully operating as a manufacturer of OEM peristaltic pumps on the global market. In some European countries and the United States we are represented by exclusive distributors. The main focus of our activities lies on the development and construction of peristaltic pumps as well as the national and international sale of pumps and accessory components produced internally and externally.
Due to systematic networking we maintain a long-standing partnership with a large number of suppliers and service providers.
Peristaltic pumps. Flexible tubing. Gear pumps.
Manageable cased peristaltic pumps. Laboratory pumps. Filling stations.
Customized Product Solutions
Individually developed pumping systems for companies from various industry sectors complete our range of services. Our team can draw on extensive skills and experience when it comes to project planning and realization.
Versatile Application Possibilities
Examples of possible applications for our products are as follows:
Plant engineering: Transfer of different oils
Automotive industry: Transfer of fuels and dosage of additives
Construction industry: Transfer of aqueous sludges and concrete
Chemical industry: Dosage of aggressive agents
Printing industry: Dosage of inks and coatings in printers
Cosmetics: Dosage of creams
Agricultural industry: Dosage of cleaning agents into milk tanks
Food industry: Dosage of liquids in drink vending machines
Medical technology: Transfer of water for laser cooling
Pharmaceutical industry: Dosage of coating agents
Water industry: Dosage of flocculants into sewage works
Most of our customers operate in medical technology, in the pharmaceutical or chemical industry, as system suppliers within the agricultural sector, the vending industry, printing press manufacturing and waste disposal.